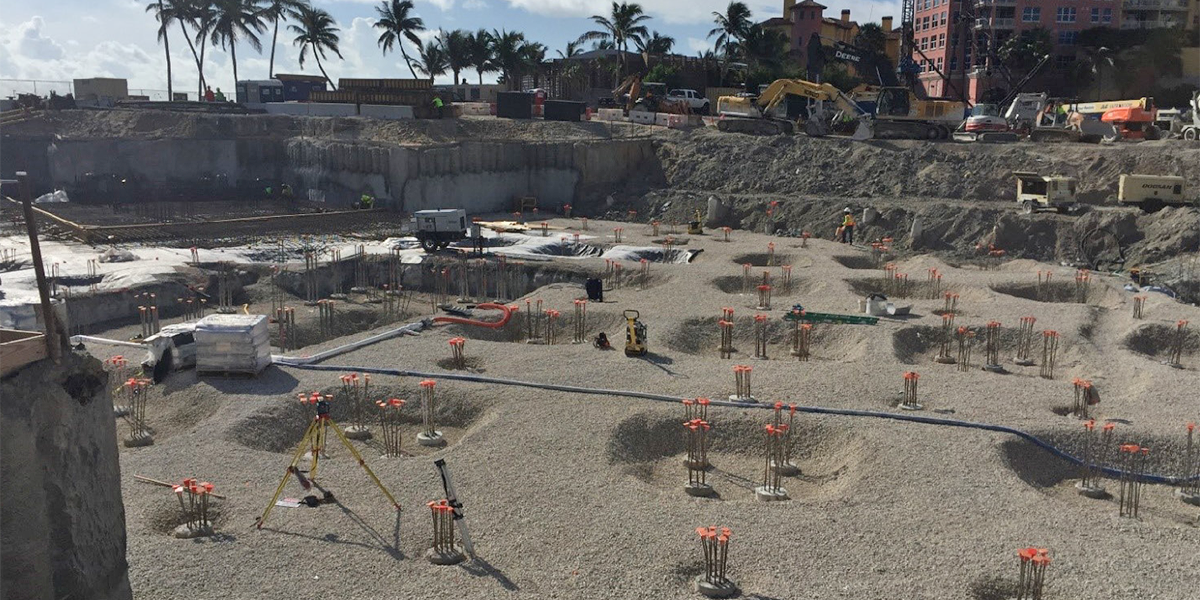 Auberge Residences Geotechnical Construction Support Services
The Auberge Residences and Spa involved the construction of two luxury oceanfront towers in Ft. Lauderdale, Florida. The residences included two towers. A 17 story North Tower and a 20 story tall South Tower, with an underground parking garage in between them. Construction and design of facilities underground and significantly below the water table has challenges. Hayward Baker and HJ Foundation performed soil mixing and augercast piling construction. The pilings were designed to both support the towers and to anchor the soil plug which was created to facilitate construction in the dry, despite the excavation just feet from the Atlantic Ocean. H2R's services were called upon to provide Specialty Construction Support and Verification for this sensitive Support of Excavation (SOE) effort, which by nature poses high risks.
Partner Testimonial:
Performance and accurate test results: The Auberge project was a very challenging geotechnical project, one of the hardest in my career, and H2R provided excellent work in support of our project. They were accurate and diligent with all of the sampling and lab testing requirements. They provided onsite training for my crew and staff to make sure we fully understood the delicate nature of sampling and that we were up to speed on the appropriate sampling methods and standards. They reported accurate results with an excellent understanding of the engineering impact of those results, which provided us with additional information and assistance throughout construction.
Schedule: They adjusted and met our schedule in each phase. The project schedule was constantly changing due to a varying issues from onsite logistics, permitting, to soil condition changes, and H2R adjusted and responded on time throughout the duration of work.
Experience: Excellent. The quality of service and dedication to our project provided HBI with high quality information delivered on time. I was very pleased with their performance and I have continued to hire them for future work based on the success and effort on the Auberge project. Excellent staff, quality work, on time and economical. They are highly recommended.
Daniel Bole, Project Manager, Hayward Baker Inc.
H2R Corp, at the time known as Gannett Fleming, provided general geotechnical field services for a soil plug being constructed by Hayward Baker and HJ Foundation, performed drilling services and wireline coring of the low strength soil plug materials, and supported efforts for laboratory testing. In addition, geophysical methods were employed to locate unknown foundations from previous structures.
Start Date: 2015
End Date: 2016
Service Lines:
Geotechnical Engineering
Specialty Construction Support and Verification
Materials Testing and Inspection Services
Subsurface Exploration and Drilling
Partners: Hayward Baker / HJ Foundation
Location: Ft. Lauderdale, FL