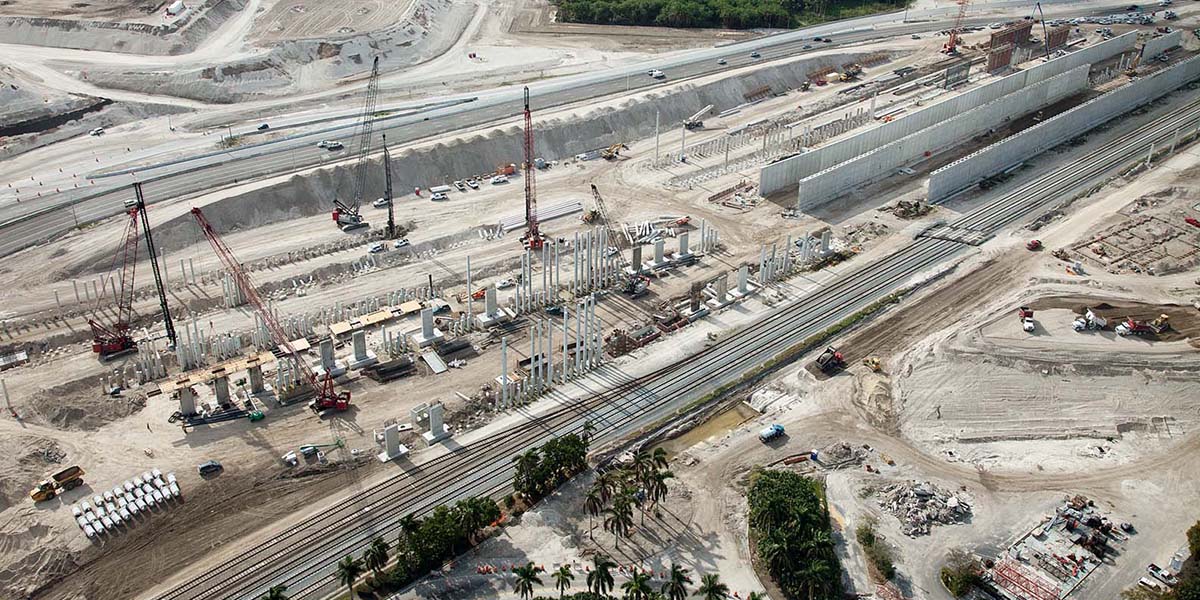 Fort Lauderdale-Hollywood International Airport Runway Expansion
In 2003, Broward County Aviation Department (BCAD) began planning a facility expansion at the Fort Lauderdale-Hollywood International Airport (FLL) to meet increasing travel demands, improve the air traffic system and to accommodate larger passenger aircraft. The expansion began with the southern runway, 9R-27L runway, to accommodate larger commercial aircraft which required the construction of runway and taxiway bridges.
The bridge structures were designed to safely carry the world's largest passenger aircraft over active roadways that include U.S. 1, East Perimeter Road and the Florida East Coast Railway (FECR). There are six parallel tunnels, topped with a 500,000-square foot runway deck capable of handling the rough landing of a fully-loaded 747 or an Airbus A360. This engineering feat is only the second-of-its-kind in the U.S., following a similar configuration at the world's busiest airport, Atlanta Hartsfield-Jackson International.
The project includes significant earthwork, 50-ft high walls, drainage, roadway realignment, vehicle bridge, runway bridge, and a taxiway bridge. Our firm's geotechnical services included a complete subsurface exploration program, laboratory testing, and design services for walls, embankments, roadway, 24-inch pile bridge foundations, drilled shaft foundations, water retention areas, stone columns, soil mixing, and various ITS and signalization components.
Our firm's geotechnical design engineering was a key component in the development and construction of the bridges and associated runway expansion. This work required significant resources and expertise to meet the technical challenges associated with the difficult soils conditions. The firm was also retained to perform construction services on the nearly 3,000 driven pilings and performed nearly 1,000 dynamic pile tests.
Multiple contractors and design teams added to the complicated nature of this project, and it required all members to fully coordinate their efforts for a successful project outcome. The project's successful outcome was enhanced by the use of several best practices that our firm developed, based on experiences from previous design-build projects.
The geotechnical team at H2R Corp (formerly a part of Gannett Fleming, Inc.) provided the geotechnical design and engineering, construction inspection for driven piles and drilled shaft foundations, construction materials testing, MSE wall geotechnical evaluations, and shallow foundation design for maintenance facilities.
Start Date: 2011
End Date: 2014
Service Lines:
Partners: Broward County Aviation Department/Tutor Perini Civil, Inc.
Project Cost: $180M
Location: Ft. Lauderdale, FL